*Price includes 10% VAT with Tax Invoice
*Official Warranty From Our Distributors
Hitachi UltraStar Helium He12 0F30146 HUH721212ALE604 12TB 3.5in SE 6Gbps 7.2K RPM 512e SATA Hard Drive - Brand New

Hitachi UltraStar He12 0F30146 HUH721212ALE604 12TB / 1200GB 3.5" 6.0 Gb/s 7200 RPM 512 Emulation Serial Attached Technology Attachment Hard Disk Drive with Secure Erasure - Brand New
Ultrastar He^12

Model No
HUH721212ALE604
CONFIGURATION
Interface
SATA 6Gb/s
Capacity
12TB / 12000GB
Format Sector Size (bytes)
512e: 512
Max. Areal density (Gbits/sq. in)
864

PERFORMANCE

Data buffer (MB)
256
Rotational Speed
7200
Latency average (ms)
4.16
Interface transfer rate (MB/s, max)
600
Sustaned transfer rate
MiB/s, typical
(MB/s, typical)

243
255
Seek time
(read/write, ms typical)
8.0/8.6

RELIABILITY

Error rate
(non-recoverable, bits read)
1 in 10^15
Load/Unload cycles
(at 40°C)
600,000
Availability
(hrs/day x days/wk)
24x7
MTBF
2.5
Annualized Failure Rate (AFR)
0.35%

ACOUSTICS

Idle (Bels, typical)
2.0/3.6

POWER

Requirement
+5 VDC, +12VDC d
Operating (W)
7.2
Idle (W)
5.3
Power consumption efficiency at idle (W/TB)
(Watts/TB)
0.44
(Watts/GB)
0.00044

PHYSICAL SIZE

z-height (mm)
26.1
Dimensions
(width x depth, mm)
101.6(+/-0.25)x147
Weight (g,max)
660

ENVIRONMENTAL (OPERATING)

Ambient temperture
5° to 60°C
Shock
(half-sine wave 2 ms, G)
70
Vibration
(G RMS 5 to 500 Hz)
0.67(XYZ)

ENVIRONMENTAL (NON-OPERATING)

Ambient temperature
-40° to 70°C
Shock
(half-sine wave 2 ms, G)
33(2ms)/150(11ms)
Random vibration
(G RMS 2 to 200 Hz
1.04 (XYZ)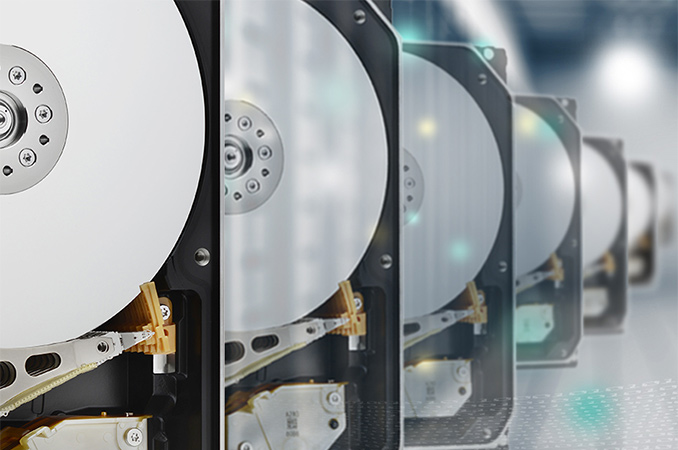 More Value to the Data Center with Maximum Capacity, Power Efficiency and Reliability
Laying the foundation for a worry-free data center, HGST delivers capacity to conquer the data explosion – Ultrastar® He12 HDD. Designed to handle workloads up to 550TB per year, the Ultrastar He12 HDD is the industry's first 12TB drive and uses PMR technology to make it drop-in ready for any enterprise-capacity application or environment. The stable internal environment created by fourth-generation HelioSeal® technology enables a new 8-disk design, increasing the capacity by 20% when compared to the 7-disk design of the prior generation. This highest capacity helium drive offers the lowest power profile in the industry to help data center architects meet eco-environmental goals and requirements. Targeted at 2.5M hours MTBF, the Ultrastar He12 HDDprovides the highest reliability rating available of all HDDs on the market today by building on the successful design of it's 10TB, 8TB and 6TB predecessors. Trust HGST and the Ultrastar He12 HDD to deliver more capacity, more efficiency, more reliability and more value to your data center
Data Durability and Data Security to Support Compliance and Privacy Requirements
As drive capacity grows beyond single-digit TBs, object storage systems with erasure coding provide better data durability compared to RAID systems, given its tolerance for simultaneous error conditions. The Ultrastar He12 HDD is a best-fit for object storage implementations with its massive capacity and industry-leading reliability rating. Compliance and privacy requirements drive the need for increased data security. The Ultrastar He12 HDD offers security and encryption options to help protect data from unauthorized use, including TCG options on both SATA and SAS models.
HGST Quality and Service
The Ultrastar He12 HDD extends HGST's long-standing tradition of reliability leadership with a 2.5M-hour MTBF rating and a 5-year limited warranty. Ultrastar quality, capacity, power efficiency, and world-class technical support and service provides customers with a lower total cost of ownership over previous generations. HGST drives are backed by an array of technical support and services, which may include customer and integration assistance. HGST is dedicated to providing a complete portfolio of HDD, SSD and systems to help the world harness the power of data.
Highlights
12TB capacity1 in a standard 3.5-inch form factor
PMR technology works with all capacity enterprise applications & environments
Reliable, field-proven, 4th generation design
Industry's best power efficiency (Watts/TB)
Compared to 8TB air drives
50% more capacity
54% more power efficient (Watts/TB)
25% more reliable
SATA 6Gb/s and SAS 12Gb/s
12Gb/s SAS compatible with next gen data centers; backwards compatible with 6Gb/s SAS
2.5M hours MTBF rating
Instant Secure Erase (ISE) & Self-Encrypting Drive (SED) options
Advanced Format 4Kn and 512e models
Applications/Environments
Enterprise and data center applications where capacity density, power efficiency and reliability are paramount
Cloud & Hyperscale storage
Massive scale-out (MSO), high-density data centers
Distributed File Systems
Bulk storage using object storage solutions like CEPH™ and OpenStack Swift
Primary and secondary storage for Hadoop® to support Big Data Analytics
Centralized video surveillance
Ideal for all mainstream enterprise capacity applications
*Stock Conditions Must Be Confirmed First
*We Only Sell New Items
*Secure shopping without fraud
*For Other Types Not In Our House, You Can Be Asked By Contacting WA. 085707354440

*~Shopping Is Very Fun When With Friendly Services~*